Normal Business Hours:
Friday 5 to 9 pm or later.
Saturday 11 am to 5 pm.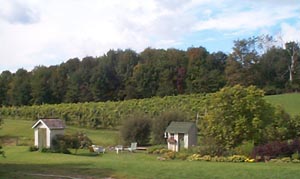 Welcome to Laleure

Vineyard Happenings
For details click on the Entertainment tab above

Friday June 28 Paul Borgher
Friday July 12 Root THeory
Friday July 19 Dale Galgozy
Friday July 26 3 Guys and a Gal
Friday August 2 Joe Fritz & friends
Friday August 9 Ruby Hornbsby
Friday August 16 Jerry Grusell
Friday August 23 Billy Kemp
Friday August 30 Troubadours of Divine Bliss
Friday September 6 Andrew Bonnis
Friday September 20 Jim Anderson

Newsletter
Spring 2019 Newsletter



Rich


Welcome to Laleure Vineyards
Laleure Vineyards started growing grapes in Parkman, Ohio in 1997. We became an official Ohio winery in 2002, and opened our tasting room doors in November of 2003. We are a small boutique winery dedicated to producing high quality wines made primarily from vinifera grapes grown on the property.
Laleure Vineyards is located about 40 miles east of Cleveland, in the heart of Amish country in Parkman. Our address is 17335 Nash Road (also Route 88) in Parkman, Ohio 44080. We are located on State Route 88, 1.9 miles east of Route 528. For GPS sometimes using Middlefield, Ohio 44062 works better. Phone is 440 548 5120[directions]
Tasting Room Hours
Our tasting room is open on the weekends or by appointment. We are closed on Sunday.
Our normal hours are:
Friday 5-9 (usually later)
Saturday 11 am to 5 pm.

Our telephone number is 440 548 5120. Contact us by email at rich@laleurevineyards.com


-->
Video