Normal Business Hours:
Friday 5 pm to 9 pm.
Saturday 11 am to 5 pm.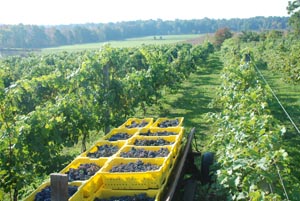 East Vineyard 2007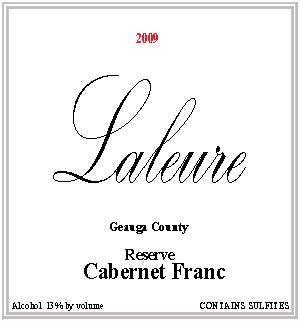 Cabernet Franc
Laleure Wines
The wines we make at Laleure all come from grapes grown on the property. We feel that this enables us to control all asapects of quality from the ground into the bottle.
Cabernet Franc
Our Cabernet Franc is the favorite for lovers of big red wines. Aged in American oak barrels for a minimum of 2 years, it is powerful yet smooth with plenty of dark berry fruit.

Chardonnay
Laleure makes a wide variety of chardonnays. Earlier vintages were aged in American oak. Our 2005 vintage remains a favorite for those who love a buttery finish along with a fair amount of oak flavor. Our later vintages have migrated to part French and part American oak barrels(2009) and our 2010 100% French oak with a customized profile. Since it was such a good vintage, we finished part of it in stainless steel to leave a very crisp, green apple chardonnay.
Pinot Noir

Laleure Pinot is changing as we move towards new winemaking technique. We continue to strive to maintain a strong presence of fruit, typically bright cherry. Our 2010 will be released soon, and we hope you will really love it. So far the barrel samples form our new French oak indicate great promise.
Riesling

Riesling at Laleure is a favorite. It generally has a bit over 1% residual sugar, just enough to balance the acid. Lots of fruit!