Normal Business Hours:
Friday 5 pm to 9 pm.
Saturday 11 am to 5 pm.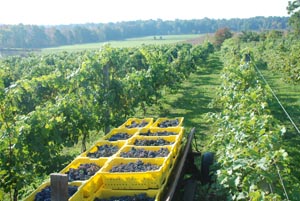 East Vineyard 2007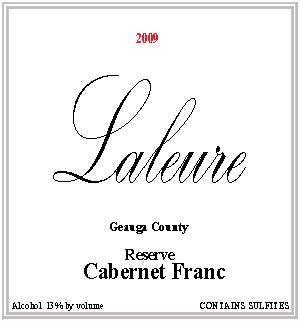 Cabernet Franc
Laleure Wines
The wines we make at Laleure all come from grapes grown on the property. Growing our own grapes enables us to control all aspects of quality from the ground into the bottle. The wines we make are truly representative of the local terroir and of our northeast Ohio location. In fact, the perhaps surprising success we have had growing even the sensitive Pinot Noir grape is becoming more well known, and is becoming a specialty of our region. After all, northeast Ohio falls within "The Pinot Belt" which is a latitude band around the globe that also extends to other great pinot regions including The Burgoyne in France and The Willamette in Oregon
Red Wines
Cabernet Franc
Our Cabernet Franc is the favorite for lovers of big red wines. Aged in American oak barrels for a minimum of 2 years, it is powerful yet smooth with plenty of dark berry fruit.
Pinot Noir
Laleure Pinot is changing as we move towards new winemaking technique. We continue to strive to maintain a strong presence of fruit, typically bright cherry. It is aged in French oak barrels using a custom toasting profile optimized for the style wine we love.
Chambourcin
Chambourcin is a French-American varietal. It is one of the first grapes we planted at Laleure because it is well known for its winter hardiness, and it has lived up to those expectations. It has a very deep red color and when aged in American oak barrels has a rich berry flavor and is quite easy to drink despite no residual sugar.

Laleure also makes a Rose version of our Chambourcin. It is very light, reminiscent of drinkig a Rose in the countryside of Provence.
Three Dog Red
Laleure Three Dog Red is a blend of primarily Pinot Noir and Cabernet Franc. The blend is chosen from aged contents to be softer and easy to drink, yet it maintains a strong presence of fruit, typically bright cherry from the pinot and dark fruit from the cabernet franc. It is typically aged in oak barrels using a custom toasting profile optimized for the style wine.
White Wines
Chardonnay
Laleure makes a wide variety of chardonnays. Our chardonnay's are now fully aged in French oak barrels using a custom toast profile. Most vintages we bottle a portion without aging in oak for our customers who prefer the more crisp flavor and mouthfeel
Riesling
Riesling at Laleure is a favorite. It generally has a bit over 1% residual sugar, just enough to balance the acid. Lots of fruit!
Vignoles
Our vignoles is preferred by our customers who like a crisp white wine. It is also the basis of a blend we make called Three Dog White. Both are well balanced with a hint of grapefruit.
Three Dog White
The Three Dog White is a crisp white wine with significant fruit overtones of citrus fruit and pineapple. Laleure Three Dog White is a blend primarily made from Vignoles and Bianca grapes. It is made to be a bit softer than the vignoles by controllling the level of the Bianca, yet it retains the crisp grapefruit notes of the vignoles.